Ecco come installare l'ultima versione di Plone (4.0.2) in un sistema Ubuntu minimale (installato in una virtual machine tramite l'immagine mini.iso ver 10.04 a 32bit).
Inizia l'installazione di Ubuntu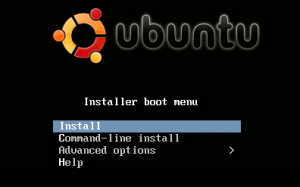 Scelgo la lingua: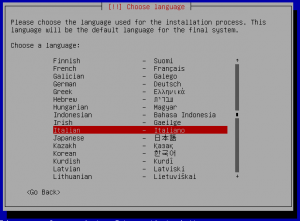 Do un nome al server: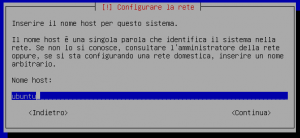 Partiziono come consigliato: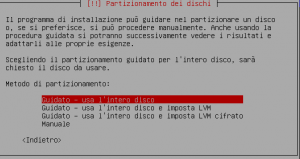 Nel nostro caso bastano le partizioni essenziali: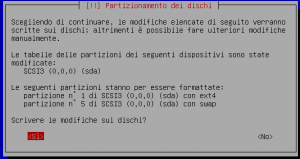 Imposto gli aggiornamenti automatici relativi alla sicurezza: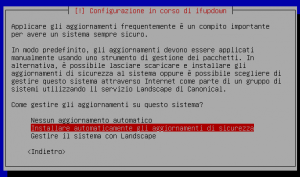 Scelgo di installare solo i componenti essenziali e il servizio ssh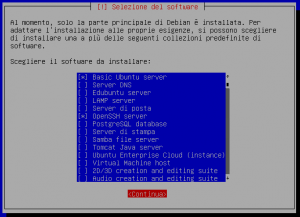 Termino la procedura con l'installazione di Grub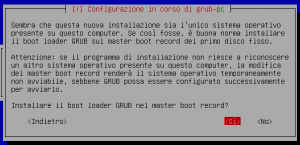 Una volta che il server ha terminato l'installazione e si sarà riavviato, scopriamo l'indirizzo ip assegnato dinamicamente dal server DHCP:
ifconfig eth0

Ora dal nostro PC possiamo accedere al server virtuale tramite ssh:
ssh fc@192.168.1.203

(anche Putty va bene se abbiamo solo Windows a disposizione)
Ora possiamo installare i pacchetti che serviranno a Plone4.
Nota bene: tutti i comandi vanno eseguiti come utente normale, non quindi da root, quando serviranno i privilegi di root verrà specificato di eseguirli tramite sudo
sudo aptitude install build-essential python-dev python-pip python-pastescript python-setuptools python-imaging subversion

Installiamo ora i componenti che ci servono per installare rapidamente i progetti Zope
sudo pip install zopeskel
Possiamo ora utilizzare paster per installare Plone. Diamo un'occhiata per vedere quali template sono disponibili:
paster create --list-templates

Available templates:
 archetype:          A Plone project that uses Archetypes content types
 basic_namespace:    A basic Python project with a namespace package
 basic_package:      A basic setuptools-enabled package
 basic_zope:         A Zope project
 kss_plugin:         A project for a KSS plugin
 nested_namespace:   A basic Python project with a nested namespace (2 dots in name)
 paste_deploy:       A web application deployed through paste.deploy
 plone:              A project for Plone products
 plone2.5_buildout:  A buildout for Plone 2.5 projects
 plone2.5_theme:     A theme for Plone 2.5
 plone2_theme:       A theme for Plone 2.1
 plone3_buildout:    A buildout for Plone 3 installation
 plone3_portlet:     A Plone 3 portlet
 plone3_theme:       A theme for Plone 3
 plone_app:          A project for Plone products with a nested namespace (2 dots in name)
 plone_hosting:      Plone hosting: buildout with ZEO and Plone versions below 3.2
 plone_pas:          A project for a Plone PAS plugin
 recipe:             A recipe project for zc.buildout
 silva_buildout:     A buildout for Silva projects

Utilizziamo il template plone3_buildout visto che non c'e' ancora un template specifico per Plone4
paster create -t plone3_buildout

Alle domande che ci vengono poste rispondiamo nel modo seguente
Enter project name: plone402
Expert Mode? (What question mode would you like? (easy/expert/all)?) ['easy']: easy
Plone Version (Plone version # to install) ['3.3.5']: 4.0.2
Zope2 Install Path (Path to Zope2 installation; leave blank to fetch one!) ['']:
Plone Products Directory (Path to Plone products; leave blank to fetch [Plone 3.0/3.1 only]) ['']:
Initial Zope Username (Username for Zope root admin user) ['admin']: admin
Initial User Password (Password for Zope root admin user) ['']: admin
HTTP Port (Port that Zope will use for serving HTTP) ['8080']:
Debug Mode (Should debug mode be "on" or "off"?) ['off']: on
Verbose Security? (Should verbose security be "on" or "off"?) ['off']: off
Per il passaggio successivo ci servirà anche il pacchetto distribute
sudo easy_install distribute==0.6.14

Entriamo nella cartella creata in precedenza:
cd plone402/

Lanciamo lo script bootstrap.py
python bootstrap.py

Alla fine otterremo la risposta: Generated script '/home/fc/plone402/bin/buildout'.
Ora scarichiamo tutti i pacchetti e le dipendenze indicate nel file buildout.cfg col comando:
./bin/buildout

Questo è il passaggio più lungo ma anche l'ultimo 😉
Ora avviamo il server Zope
./bin/instance console
Nota: è ancora possibile avviare il server tramite il comando ./bin/instance fg ma dalla versione 4 si consiglia di utilizzare ./bin/instance console
Se vogliamo avviare il server in modalità background scriveremo: ./bin/instance start

e col nostro Browser verifichiamo il funzionamento di Plone puntando all'indirizzo: http://192.168.1.203:8080 (sostituite all'occorrenza il numero IP con quello del vostro server):

Questo post è stato riadattato dall'
originale
di
Noe Misael Nieto Arroyo
Nel prossimo articolo vedremo come creare un nostro tema per Plone 4